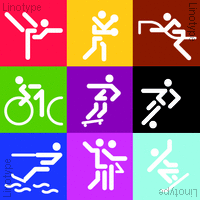 Tips family (Linotype library) contains 6 fonts.
The symbol family Tips, (which stands for "Type-Image-Piktogramm-Schrift" in German, or type-image-pictogram-font in English) contains six different fonts of pictograms and stylized icons.
Tips Active is full of sports pictograms, which are similar to those that were designed for the 1972 Olympic Games in Munich.
Tips Astro contains astrological signs.
Tips BCom depicts icons for use in business communication or web design.
Tips Count is a font featuring numbers inside of various circles.
Tips This Way and Tips Travel are both collections of pictograms for use in navigation and other signage systems.