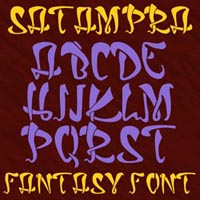 Satampra font (Scriptorium Library). Click on the font picture to buy the font.
Satampra evokes the spirit of Arabic calligraphy with a hint of something strange and magical.
It is an unusual calligraphic font based on an obscure hand lettered style with unique overlapping character strokes. It fits the theme of oriental fantasy and would work well with the fonts in our Arabian Nights Fonts and Art package.
Satampra is an upper-case only font, but the lower case positions have alternative versions of the upper case character set.