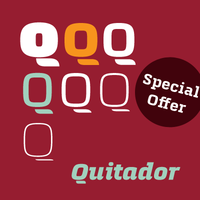 Quitador family (Linotype library) contains 14 fonts.
Quitador, designed by German designer Arne Freytag (b. 1967), is a constructed Slab Serif typeface family with a humanistic touch especially the Italics. The typeface family has a high x-height, respectively shorter top and bottom lengths.
It is suitable for Reading, Headlines, Poster, Magazines, Advertising, Logos Web and Mobile Devices.