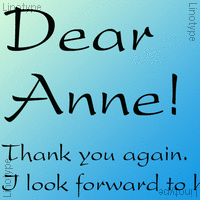 Present family (Linotype library) contains 10 fonts.
This lively calligraphic font was designed by Friedrich K. Sallwey and appeared with Linotype in 1974.
Present is distinguished by the buoyant rhythm of its characters, with their flowing forms and stroke contrasts. This contrast lends the font a faint Asian character, which is perhaps what has made the font so popular in international advertisements, an accomplishment usually reserved for text fonts.