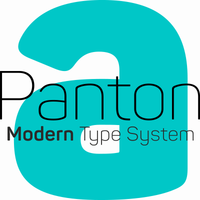 Panton family (Fontfabric fonts) contains 36 fonts.
NEW! Update 2.0
What's new:
- Brand new weights available: Panton Fat & Panton Fat Italic
- Icon Sets PDF Specimen available: http://myfonts.us/suAc3K
Description The Panton font family includes 36 weights - 10 uprights with 10 italics and 16 icon sets as a bonus. It is characterized by excellent legibility in both web & print design areas, well-finished geometric designs, optimized kerning, excellent web-font performance and legibility etc.
Inspired by the classic grotesque typefaces - Panton has his own unique style, expressed in perfectly softened geometric forms.
The font family is most suitable for headlines of all sizes, as well as for text blocks that come in both maximum and minimum variations. Panton font styles are applicable for any type of graphic design in web, print, motion graphics etc and perfect for t-shirts and other items like posters and logos.