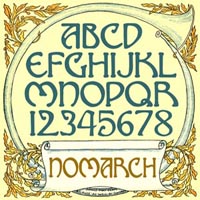 Nomarch font (Scriptorium Library). Click on the font picture to buy the font.
Nomarch is a charming new Art Nouveau font based on samples of poster lettering from the beginning of the twentieth century.
The relatively bold weighting of the characters makes Nomarch particularly good for use in large sizes for titles on posters and flyers.