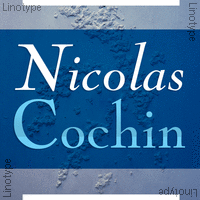 Nicolas Cochin family (Linotype library) contains 6 fonts.
Georges Peignot designed the font Nicolas Cochin based on copper engravings of the 18th century and Charles Malin cut the typeface in 1912 for the Paris foundry Deberny & Peignot.
The font is named after the French engraver Charles Nicolas Cochin (1715-1790) although its style had little to do with that of the copper artist.
Nicholas Cochin is a freer variation of another Peignot font, Cochin, a bit more balanced and elegant.