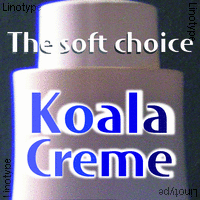 Koala family (Linotype library) contains 3 fonts.
Koala was originally designed in 1999 by Eric de Berranger with an individual, independent character.
A distinguishing characteristic of this sans serif font is its marked stroke contrast, typical of Modern Face fonts. The open, airy forms are reminiscent of ancient Roman capitals. The lower case letters display traits similar to those often seen on posters and in advertisements of the 1930s and 1940s.
The lively Koala is particularly good for shorter texts and headlines in larger point sizes and combines well with fonts with little stroke contrast.