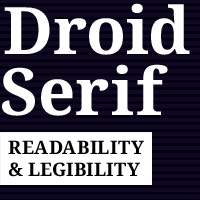 Droid Serif Pro family (Ascender Foundry) contains 4 fonts.
The Droid Serif Pro Family (4 fonts) is a contemporary serif typeface family designed for comfortable reading on screen.
The font is slightly condensed to maximize the amount of text displayed on small screens. Vertical stress, sturdy serifs and open forms contribute to the readability of Droid Serif while its proportion and overall design complement its companion Droid Sans. The fonts were designed by Steve Matteson, the Type Director at Ascender Corporation.
The Droid Serif Pro Family (4 fonts) includes Latin 1 and WGL character sets, along with Old Style Figures (requires an application that support advanced OpenType typographic features).