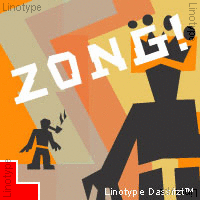 Dassitzt family (Linotype library) contains 2 fonts.
Dassitzt is a family of two typefaces, Dassitzt LT Typos and Dassitzt LT Pictos.
Dassitzt LT Typos is a heavy industrial-grunge display face, with dark, even letters that appear cut out of black paper or iron.
Dassitzt LT Pictos is a whimsical collection of pictograms. The figures in this font are black silhouettes that show a minimum amount of detail, but a maximum amount of expression.