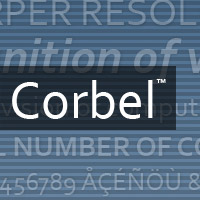 Corbel family (Ascender Foundry) contains 4 fonts.
Corbel is designed to give an uncluttered and clean appearance on screen. The letter forms are open with soft, flowing curves. It is legible, clear and functional at small sizes. At larger sizes the detailing and style of the shapes is more apparent resulting in a modern sans serif type with a wide range of possible uses.
Corbel was tuned for ClearType rendering environment and is included with Windows Vista and Office 2007.