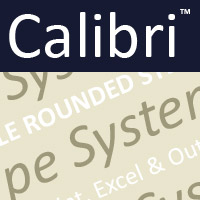 Calibri family (Ascender Foundry) contains 4 fonts.
Calibri is a modern sans serif family with subtle roundings on stems and corners. It features real italics, small caps, and multiple numeral sets. Its proportions allow high impact in tightly set lines of big and small text alike. Calibri's many curves and the new rasteriser team up in bigger sizes to reveal a warm and soft character.
Calibri was tuned for ClearType rendering environment and is included with Windows Vista and Office 2007.