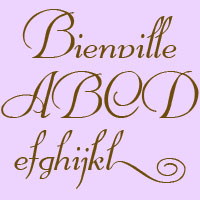 Bienville font (Scriptorium Library). Click on the font picture to buy the font.
Bienville is an elegant script font with some unusual features. It includes end-of-sentence flourishes which attach to most lower case characters, a flourish for attaching to the descenders of selected characters, and some stand-alone flourishes as well.
The end result is quite decorative.