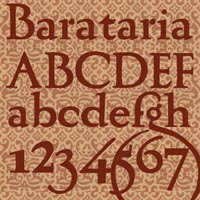 Barataria font (Scriptorium Library). Click on the font picture to buy the font.
When designing a font, I often imagine how I think it should be used or where I'd be likely to see it out in the real world.
With Barataria I envisioned it on decorative, antique-looking signs hanging outside shops in the French Quarter of New Orleans - hence the name.
Barataria is based on samples of 1920s period poster lettering. It's a bold, heavy roman font with strong, rounded character forms. Barataria also has some unique alternative character forms, like the super-looped 'g' shown in the sample.