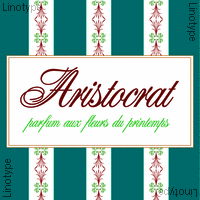 Aristocrat font (Linotype library). Click on the font picture to buy the font.
British designer Donald Stevens created Aristocrat™ in 1978. Aristocrat is a fitting name for this sort of design. The elegant script face combines intricate capitals with a reserved lowercase.
Aristocrat is a perfect choice for certificates, greeting cards, and invitations.