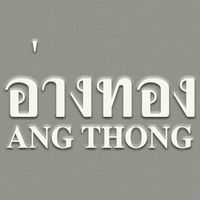 Ang Thong family (Bitstream library) contains 2 fonts.
Bitstream developed Ang Thong for the Microsoft Windows operating system. The font is encoded with a Microsoft defined Thai character set, Thai Code Page 874. The font includes Thai glyphs and Latin glyphs from Dutch 801.
Ang Thong (basin of gold) is a province in central Thailand which consists mostly of flat agricultural land used for growing rice.