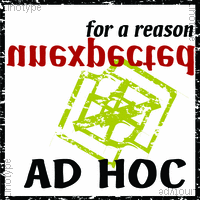 Ad Hoc family (Linotype library) contains 5 fonts.
Franko Luin was born in 1941 in Italy but moved to Sweden where he studied graphic design and printing technologies at Grafiska Institutet in Stockholm. After 20 years with the telecom company Ericsson's advertising department, in 1989 he started his own design studio, Omnibus Typografi.
Besides designing typefaces he had a keen interest in languages, and particularly the international language Esperanto.
"When I design my own typefaces I am free to determine the details of a particular character. But not totally free, since I must keep track of the character shapes in use since the Rennaissance - and that while I am trying to create something new. It isn't easy. Typeface designers have been working for 500 years with the same basic shapes and with the same aim. When I see the result of my work and compare it with what other designers have achieved, I am inclined to agree with F.W. Goudy that 'the elders have stolen our best ideas. Ad Hoc is a fake. My intention was to design a typeface with the looks of the characters drawn on paper with a marker pen. But they are all drawn on a monitor, with no scanner ever involved. That's the reason why they look so regular."