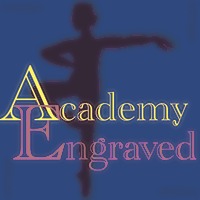 Academy Engraved font (Linotype library). Click on the font picture to buy the font.
Vince Whitlock developed Academy Engraved in 1989. Academy Engraved's design is inspired by the renowned Caslon typefaces that were produced in 18th Century Britain. The refined forms of this Roman style help make Academy Engraved a noble, classic typeface.
Academy Engraved's capitals can be used as large initials for text set in other fonts; its elegance creates a great impression.